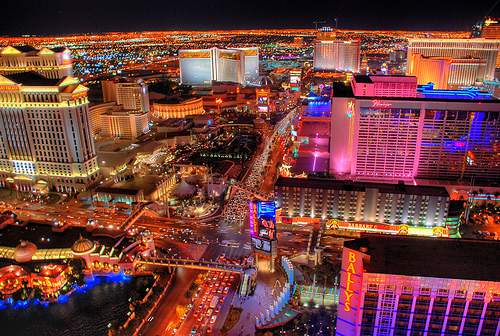 There Card Poker was first tested in Las Vegas casinos in late 1999 and is now a popular table game that can be found in virtually every multiple-pit casino in the city. Perhaps the reason it became so popular is the original pay-table for Pair Plus paid 4-1 on a flush. Back then the house advantage was just 2.32% which was unheard of for a game where 40-1 payouts can be won. The closest game paying similar is roulette where the house advantage is 5.26%.
Although perhaps unaware of the favorable odds, many players experienced their effects. Truthfully, 3-card was the table game where lucky streaks most frequently occurred. Add this to the fact the game is laidback and involves handling the cards and making a decision, and it's easy to understand how this quickly caught on as a game of choice.
As the game 3-card Poker became mainstream, many casinos looked for new methods to attract its players. This led to the introduction of all sorts of unique variations. In 2007 Harrah's casinos introduced a unique Pair Plus pay table with a new hand called mini-royal (AKQ suited) that pays 50-1. In 2008 Boyd Gaming casinos introduced a $1.00 side bet that pays a progressive jackpot for AKQ spades, $500 for any other mini royal, and an envy bonus to all non-winning tablemates as $25 for a non-spades mini-royal, and $100 for a jackpot win.
More recently the Wynn introduced a side-bet called Prime where if a players three cards are the same color he's paid 3-1, and Caesars Palace has a 6-card bonus that uses the players 3-cards and the dealers 3-cards towards making a five card poker hand.
The unfortunate downside to these changes is that starting in 2007, and finalized by 2010, all original Pair Plus payout tables have been removed from Las Vegas casinos. As of November 2011, every Las Vegas Strip and Downtown Las Vegas casino without mini Royal has the same Pair Plus payout chart.
Straight Flush – 40-1
Three of a Kind – 30-1
Straight – 6-1
Flush – 3-1
Any Pair – 1-1
Under this pay-table, the house advantage is 7.28%. When adding in a mini-royal that pays 50-1 the house advantage is reduced to 7.10%. The change in house advantage is small because mini-royals are extremely rare, occurring only about once every 5,000 hands. While the casino odds are no longer as favorable for 3 Card Poker as they once were, realize this is standard. Most bets in Las Vegas where significant money can be won relative to stake have similar odds. Online is also similar though a 2.32% advantage original Pair Plus pay-table still exists at www.bodog.eu where the game is called Tri-Card Poker.
How to Play 3 Card Poker in Vegas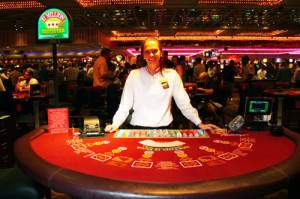 When playing Three Card Poker in Vegas, the player has two choices to bet. The player can bet the Ante, the Pair Plus, or both. If the player bets the Pair Plus only, then no other action is required. The player can look to see if they were dealt a pair or better, and then tuck their cards under their bet. If the player bets the Ante, then they must decide whether they would like to play or fold.
If the player decides to play the hand a raise equal to the size of the Ante bet is required, which called the "play bet". Once the player matches the Ante bet, the player must tuck their cards under their Ante. The general strategy is to raise a hand that is Q/6/4 or better and fold any hand worse than Q/6/4. Once the player has decided whether they will raise or fold, the dealer's hand is exposed.
If the dealer has queen high or better he's consider "qualified" and if his hand is jack high or lower he's said to have "not qualified". If the dealer does not qualify, the player wins even money on their Ante and the Play bet will push. If the dealer qualifies, then the player's hand is compared to the dealer's hand. If the player's hand beats the dealer's hand, the player is paid even money on the Ante bet and the play bet. If the dealer beats the player, the house wins the player's Ante and play bet. If the player and dealer both have the same exact hand, both the Ante and play bets will push.
Also worth noting: If the player is dealt a straight or higher they will also qualify for the Ante Bonus. The Ante Bonus is paid regardless of what the dealer's hand is. The additional Ante Bonus payouts are as follows:
Straight Flush 5-1
Three of a Kind 4-1
Straight 1-1
Where to Play in Las Vegas
As a long time advantage player, I can tell you there are not any favorable 3 Card Poker tables in Las Vegas. Perhaps for some the decision on where to play might depend on table limits. All casinos in Downtown Las Vegas offer $5 minimum Three Card Poker with the exception of the Golden Nugget where the minimum is $10. Most of the maximum bets in Downtown Las Vegas are between $50-100 with the exception of the Golden Nugget where there is a $300 max bet. One big advantage playing at downtown casinos is that the drink service is often exceptional at their table games.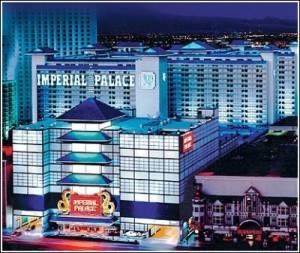 Most of the Las Vegas Strip Three Card Poker tables have a $15 minimum bet, though $10 is available center strip at Imperial Palace, and at the north end of the strip there are $5 minimums. These include Riviera, Circus Circus, and Stratosphere. The rest of the Las Vegas Strip is mostly $15 minimums though some of the higher end casinos such as Bellagio, Aria, and Wynn will go to $25 minimum during peak hours. The maximum bets will vary greatly. The north end of the strip offers a max bet of $100 or less. Some of the higher end strip properties will go as high as $1000 maximum bets.
Worth noting is 3-Card Poker in Las Vegas is very laidback. At Borgata in Atlantic City until recently there were signs on all Pai Gow Poker and 3 Card Poker tables that instructed players were not allowed to converse with one another (talk about fun eh?). This rather absurd because as the wizard points out even if you were to know a single hole card of the dealer the odds don't change enough – knowing 3 cards of a player next to you is not information that would ever warrant changing your play.
I think what makes 3-Card Poker is Vegas so popular is just how fun they make it. Here if you hit a big hand the dealers will get excited, give you a high five (seriously something not allowed in AC) and help you along in celebrating the win. So no doubt 3-Card Poker in Vegas is a fun game to play and big payouts do happen. However if you're looking for the best 3 Card Poker odds, brick and mortar casinos are not the place. You'll find much more favorable odds playing online at www.grandparker.me where the game is called Tri-Card Poker.